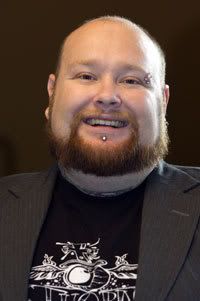 As I
said
Todd Bentley separated from his wife.
Fresh Fires Ministries
reports more:

We wish to acknowledge, however, that since our last statement from the Fresh Fire Board of Directors, we have discovered new information revealing that Todd Bentley has entered into

an unhealthy relationship on an emotional level with a female member

of his staff. In light of this new information and in consultation with his leaders and advisors, Todd Bentley has agreed to step down from his position on the Board of Directors and to refrain from all public ministry for a season to receive counsel in his personal life.
Sad indeed. However, J. Lee Grady of
Charisma Magazine
raises a few good questions in his recent editorial. He writes:

I'm sad. I'm disappointed. And I'm angry. Here are few of my many, many questions about this fiasco:

Why did so many people flock to Lakeland from around the world to rally behind an evangelist who had serious credibility issues from the beginning?

To put it bluntly, we're just plain gullible.

From the first week of the Lakeland revival, many discerning Christians raised questions about Bentley's beliefs and practices. They felt uneasy when he said he talked to an angel in his hotel room. They sensed something amiss when he wore a T-shirt with a skeleton on it. They wondered why a man of God would cover himself with tattoos. They were horrified when they heard him describe how he tackled a man and knocked his tooth out during prayer.
As a former Pentecostal, I have to admit that I was suckered years ago into saying, and doing lots of things that were plain dumb. I can attest to the fact that we took pride in knowing that we were "spirit-filled" and didn't fuss around with deep doctrine or with being discerning. But the book of Proverbs 27:12 says
The prudent sees danger and hides himself,but the simple go on and suffer for it.



Grady continues:


"

But among those who jumped on the Lakeland bandwagon, discernment was discouraged. They were expected to swallow and follow. The message was clear:

"This is God. Don't question."

So before we could all say, "Sheeka Boomba" (as Bentley often prayed from his pulpit), many people went home, prayed for people and shoved them to the floor with reckless abandon, Bentley-style."

My question would be,"Did Charisma or anyone in the Charismatic world seriously raise questions about Bentley before this fiasco happened?" I'm sure THIS
raises a few questions for people. I might also add, that the few people who were raising questions were people like
Christian Research Network
and ministries like
slice of laodicea
and the
Pyromaniacs
. Where were the wise Charismatic Pastors who should have been more discerning?
More to the point, will we ever grow up? Grady continues:


Many of us would rather watch a noisy demonstration of miracles, signs and wonders than have a quiet Bible study. Yet we are faced today with the sad reality that our untempered zeal is a sign of immaturity. Our adolescent craving for the wild and crazy makes us do stupid things.

It's way past time for us to grow up

.

A prominent Pentecostal evangelist called me this week after Bentley's news hit the fan. He said to me: "

I'm now convinced that a large segment of the charismatic church will follow the anti-Christ when he shows up because they have no discernment.

" Ouch. Hopefully we'll learn our lesson this time and apply the necessary caution when an imposter shows up."
Ouch indeed. We MUST become a more discerning people. The only way that will happen is by reading our BIBLES! I may be charismatic and reformed, but I'm not gullible. Neither should you. In the next few days I will be exploring discernment and how you can spot danger in your church.
On a final note, I want you all to understand that I make a distinction between the circus sideshow that is Lakeland and a genuine move of the Spirit. I do believe that the gifts are in effect today, and the Holy Spirit can manifest in amazing ways. Kind of like this (watch it all, it's very moving):